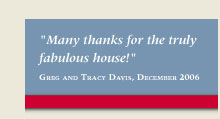 NEWSWORTHY

Archwood Takes Home Three S.T.A.R. Awards in 2009
The S.T.A.R. Awards (Spotlighting Triangle Achievements in Remodeling) are presented by the Remodelors Council and The Raleigh-Wake County Home Builders Association. Given annually, the awards are based on creative and functional design, quality workmanship, and homeowner satisfaction. In spring of 2009, Archwood Building Company received awards for three remodeling projects.

Please click below to view photos of our award-winning projects:

S.T.A.R. Award—Best Speculative Remodel (2009)

S.T.A.R. Award—Best Sunroom under $50,000 (2009)

S.T.A.R. Award—Best Bathroom $15,001 to $30,000 (2009)


Archwood Honored with Three S.T.A.R. Awards
In the spring of 2008, Archwood Building Company was honored to receive awards for three projects that represent the high quality of our work.

Please click below to view photos of our award-winning projects:

Best Sunroom under $100,000 (2008)
709 Brunswick Street

Best Kitchen $30,000–$65,000 (2008)
709 Brunswick Street

Best Speculative Remodel (2008)
2022 Reaves Drive

Archwood Pleased to Accept S.T.A.R. Award for Kitchen Renovation
Archwood received the S.T.A.R. Award for the Best Kitchen Renovation over $75,000 in March 2007. Winners are selected annually by a panel of judges consisting of architects, designers, and other professionals in the building industry. The judges live and work outside of the Raleigh area and assign each project quality points based on a variety of factors, including creativity of design and homeowner satisfaction. The award-winning kitchen, located at 2505 Anderson Drive, features granite countertops, Viking appliances, custom cherry cabinetry, and a bar area that opens to the family room.

View Photos

Archwood Renovation Project Featured on Remodelers Home Tour
Archwood participated in the 7th Annual Remodelers Home Tour in 2007. Sponsored by the Remodelors Council of the Home Builders Association of Raleigh-Wake County, the tour occurs each fall. The homes on the tour represent examples of how renovations can transform living space for optimal aesthetics and function. The latest trends in architecture and interior design are showcased in a variety of styles and price ranges.

Our featured project was the home we renovated at 2713 Lochmore Drive. Built in 1936, this house was originally 2,100 square feet and contained three bedrooms and two and a half baths. Working closely with the homeowners, we added 1,400 square feet, blending the old and new to achieve a balance between updated efficiency and the original character of the home. With five bedrooms and four and a half baths, the end result is functional and beautiful.

View Photos

Archwood Participates in Sixth Annual Remodelers Home Tour
Archwood Building Company was pleased to take part in the 6th Annual Remodelers Home Tour in October of 2006. We transformed the 1,563-square-foot ranch home located at 2821 Anderson Drive into a modern family estate. The original structure was built in the 1940s on a large corner lot. The home now offers five bedrooms, four full baths, one half-bath, and a gourmet kitchen and den combination. The list goes on with formal living and dining areas, a downstairs bonus room, and a wine cellar. Outside living areas include a covered porch overlooking a beautiful and spacious backyard. At 4,700 square feet, the newly renovated home sparkles with new life and functionality.

View Photos

Archwood owner Michael Powell initiated the first Remodelers Home Tour in Raleigh in 2000. Noting that the Parade Home Tours featured only new construction, he felt that a tour showcasing remodeled homes would be of interest to homeowners and prospective homeowners alike. Over 2,000 people viewed the 12 homes on the tour in 2006, and a portion of all proceeds benefited Building Together Ministries.