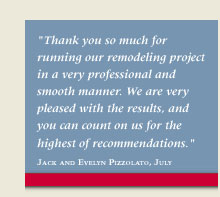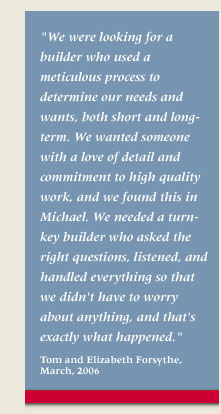 WHY CHOOSE ARCHWOOD

Trust—We Build Relationships that Last
Over half of our clients have referred Archwood Building Company to their friends and family. We work with our clients to create an active partnership. By blending the homeowner's aspirations and vision with our working knowledge and experience, we work toward the renovation solution that meets your lifestyle needs.

Design-Build Process
Starting with your vision, our detailed process takes you from the design stage to the completion of blueprints. It is the homeowner's desires, lifestyle needs, and budgetary realities that drive the process. A thorough design process ensures a smooth building process. Our personalized client book includes:

A detailed statement of work—outlining in detail what we are going to accomplish

Before and after pictures—so you can see the progress

Schedule of activities at your house—so you know what is going on and when

Product reference guide—our preferred vendor list

Decision dates—ensuring that everyone stays on track and the project is completed on time

Allowances—so you can see where your money is being spent

Signed and dated punch list—ensuring the project is completed to your satisfaction

20+ Years of Experience
Archwood is under the direction of Michael Powell, a third-generation builder in business since 1984. We are a Certified Graduate Remodelor whose experience base covers whole-house renovations, large-scale additions, second story additions, and new custom homes.

Award-Winning Designs
We work to receive rave reviews from clients, but it's always great to be recognized by peers! As a member of the Remodelers Council, which is part of the Raleigh-Wake County Home Builder's Association, we have been awarded several S.T.A.R. (Spotlighting Triangle Achievement in Remodeling) Awards:
Best Speculative Remodel—2009
Best Sunroom under $50,000—2009
Best Bathroom $15,001 to $30,000—2009
Best Spec Remodel—2008
Best Kitchen $30,000 to $65,000—2008
Best Sunroom under $100,000—2008
Best Kitchen Renovation over $75,000—2007
Whole House Renovation—2002, 1997, 1995
Best Sunroom—2002
Best Addition under 1,000 Square Feet—2000
Best Addition over $50,000—1997

Professional Affiliations
Archwood Building Company partners with the leading professional organizations in our industry. On a national level, we are proud members of the Remodelers Advantage Millennium Group. We belong to the North Carolina Home Builder's Association in the local Raleigh-Wake County Chapter. Michael Powell is proud to be a founding member and past chairman of the Remodelers Council, which is part of the Raleigh-Wake County H.B.A. (which we actively continue to support).

Quality
Quality workmanship and quality products ensure that your home will withstand the test of time. Our Project Managers are college educated, licensed general contractors who understand each facet of construction. Most of our standard products are upgrades for our competitors!